There are three reliable ways to unlock higher-converting campaigns as a Shopify merchant:
Make your destination page match your messaging.
Eliminate leaks and distractions.
Remove friction and make it easy to buy.
Yet for many Shopify merchants, it's still difficult to leverage these not-so-secret conversion levers in a scalable way.
What would the possibilities look like if you could spin up the perfect destination link in seconds to match your next customer acquisition or retention campaign?
You don't have to imagine. Here are some of the ways you can use 
Checkout Links
 to boost conversion rates, average order value, and reorder rates with checkout links that match your campaigns.
22 Ways to Use Checkout Links for Higher-Converting Campaigns
Checkout Links is the most versatile sales channel for 
Shopify
, allowing you to sell almost anywhere you can add a link or QR code, whether you want to serve up a tailored checkout experience for a targeted campaign or a single customer.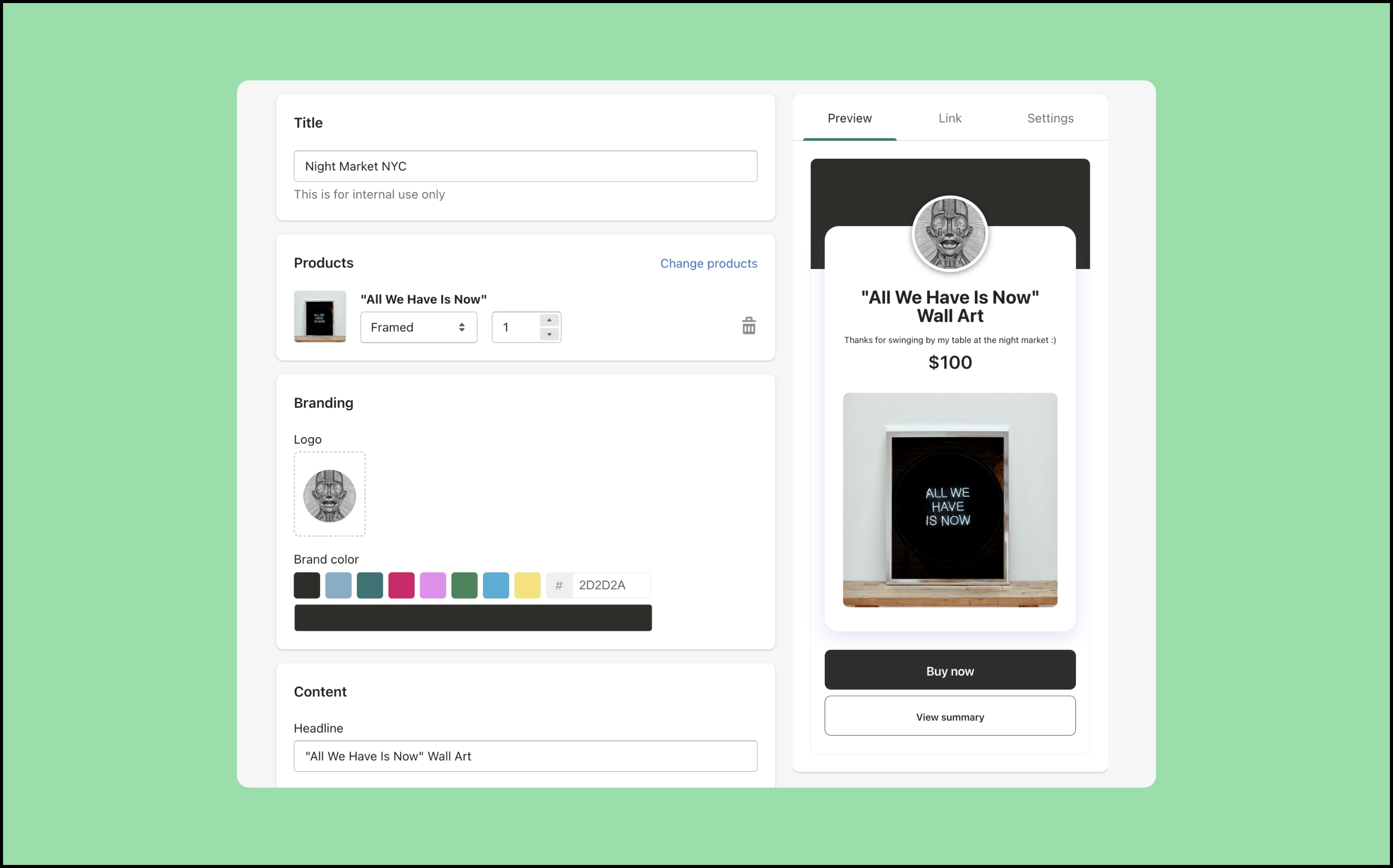 With Checkout Links for Shopify, you can:
Pre-load the shopping cart to reflect your offer with specific products, variants, quantities, bundles, gift-with-purchase, free samples, etc.
Tailor the checkout copy and branding to match your messaging, from the logo and colors to the headline, description, and buttons.
Auto-apply discounts to the checkout instead of forcing customers to manually add products or remember a discount code.
Generate a QR code with every link for use in offline marketing materials
Eliminate "conversion leaks" with a focused, mobile-friendly, distraction-free campaign destination
Integrate with Shopify, Klaviyo, and third-party apps (coming soon) to generate links for your next campaign
Track individual link performance with UTMs, pixels, and direct attribution in Shopify like any other sales channel
There are 100+ ways to use personalized Checkout Links across your marketing to send customers straight to the perfect checkout experience. But here are 22 to get you started.‍
Make re-ordering a breeze to boost customer retention and lifetime value
It's 
6x to 7x more expensive to acquire a new customer
 than to sell to existing customers. From cross-selling products to customer loyalty discounts, from email to SMS marketing to packaging inserts, there's no shortage of tactics and channels for creating repeat customers.
Why not make it easy for them to buy again with a re-order link?
Checkout Links are responsive and designed for mobile first. No typing in a discount code or browsing your store on a small screen. Instead, you can send customers straight to a pre-loaded checkout with their exact order ready to go.
1, Reward loyal customers with a pre-loaded, customizable cart of recommended products with a free gift to show appreciation while driving shopping them towards your target order value.
2, Send a back-in-stock notification to customers who wanted a sold-out product with a Checkout Link headline that says, "Before it sells out again."
3, Send an automated reorder reminder text to customers who purchased products that require regular replenishment.
4, Add a QR code with a re-order link to your product's packaging that customers can scan to re-order it in seconds.
Create contextual checkout experiences to match the messaging, channel and offer
Whether you sell through Instagram, TikTok, Facebook, email or another channel, your audience is swimming in distractions on every channel as they interact with your brand.
Social media is great for generating interest in your products and awareness for your offers, but getting customers to follow through to the checkout is another story.
With Checkout Links, you can take customers straight to a distraction-free checkout with products, offers, and copy that matches the content or ads they just engaged with.
5, Offer new email subscribers a discount on a popular product bundle (e.g. a sampler pack) to grow first-time customers with your email list by making your opt-in offer easier to claim.
6, Use Checkout Link stickers in your Instagram stories to take customers straight to a mobile-friendly checkout for the offer you're promoting.
7, Add a "Claim your free gift" CTA to your "link in bio" page that sends customers straight to the pre-populated cart with instructions on how to claim the offer.
8, Run a Live event on TikTok, Facebook, or Instagram with a scheduled Checkout Link that contains the products being featured and expires at the end of the event. Viewers can browse a curated selection of products showcased during the live session.
9, You can add a Checkout Link QR code to your CTA in video content, and tell your audience to take a screenshot to scan it and claim your offer. This can be helpful in situations where social media apps make it hard to promote a link directly (like TikTok or Reels), especially now that many smartphones can open QR codes from a screenshot.
10,
Boost 
average order value
 for social media ads with a discounted product bundle offer that leads to a pre-populated cart.
11, Run targeted Black Friday email campaigns with the perfect offer for different customer segments, complete with checkout copy that speaks directly to the demographics or purchasing behavior of the audience segment.
12, Create unique Checkout Links for each influencer you work with. Instead of trying to track performance with a unique discount code. Attribute traffic and sales more easily with UTM parameters and a unique discount code baked into the Checkout Link while empowering the influencer to send their followers directly to checkout to buy the product or offer they're promoting.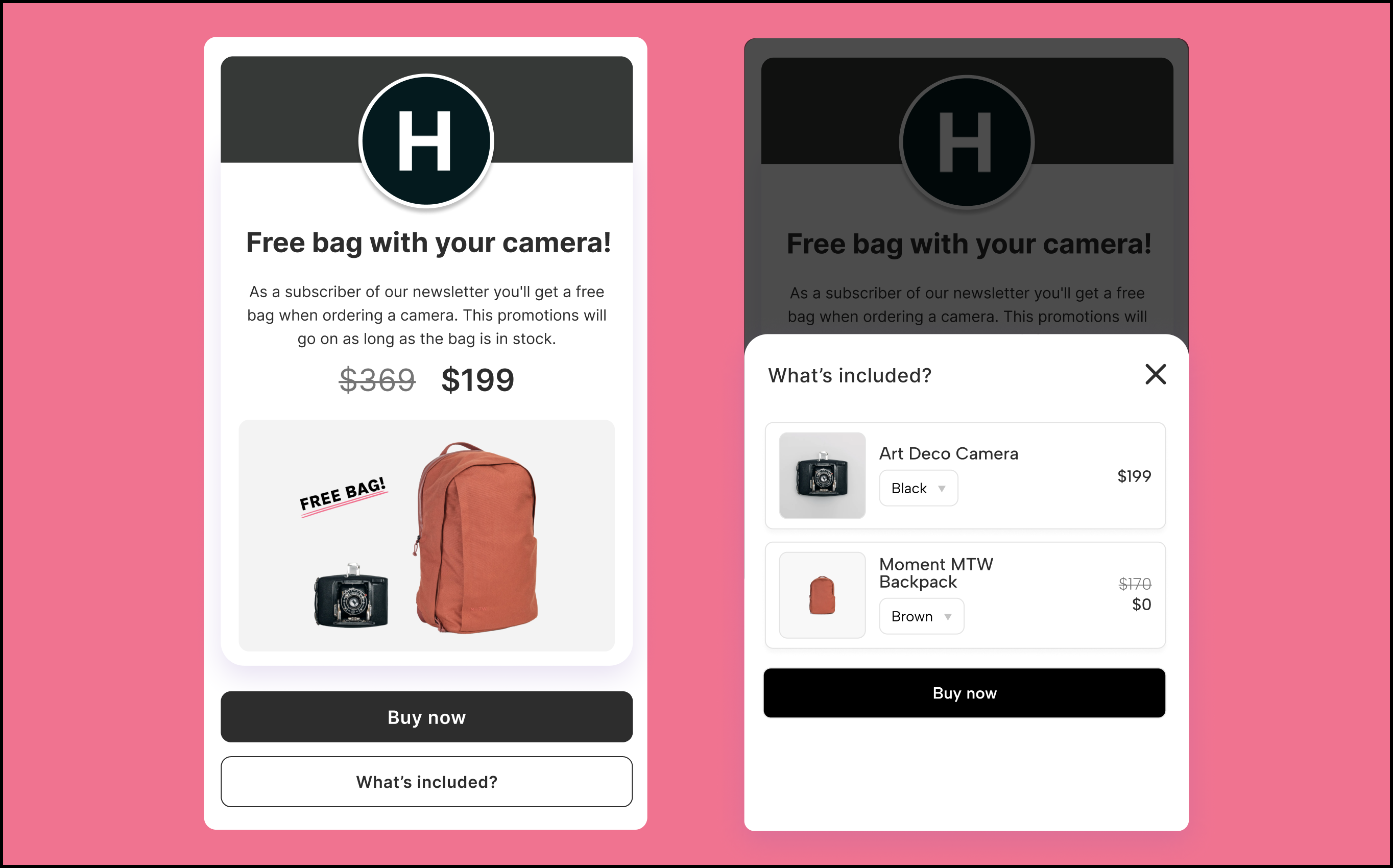 Turn any offline channel into an online checkout
You don't need to lug around a point-of-sale solution or inventory to sell in person anymore. 
Every time you create a Checkout Link, a QR code version of the link is automatically generated. Most smartphones today can scan these QR codes through the native camera app, immediately opening a browser tab with the pre-loaded checkout for a specific product, collection, or offer ready to buy.
13, Give out free samples of your product with a visible QR code on your booth, telling customers they can simply scan it for 15% off their first purchase.
14, Include a packaging insert with a QR code that ships with every order for a discount on their next order, allowing you to cross-sell or encourage repeat purchases as they unbox their order.
15, Feature QR codes next to your products at an event or gallery to let customers load their cart with that product and add others if they'd like—without them waiting in long checkout lines or you holding large quantities on hand.
16, Make an out-of-home ad "clickable" with a QR code. Offer a discount code to sweeten the deal that's automatically applied if they scan the code. Design it into your offline marketing collateral, from a flyer to a billboard.
17, Include QR codes next to the products in your physical storefront display window to encourage online checkout even when your in-store checkout is closed.
Delight customers and key accounts 1-on-1 with personalized checkouts you can create in seconds
While dedicated landing pages for a single person would be unthinkable given the time investment, Checkout Links let you create a dedicated checkout page in seconds, complete with the ideal order for the customer, a special discount, and even their name.
18, Offer a high-value influencer your product for free with personalized checkout copy that shows you care.
19, Make it easy for large accounts to reorder your products in bulk by taking them straight to checkout with a pre-populated quantity and special discounted pricing.
20, Turn inquiries from prospective customers (e.g. product recommendations for a trip to Hawaii) into curated carts of recommended products ready for them to checkout, complete with a callback to the support conversation in the copy ("Have fun in Hawaii 😎🏝").
21, Win back unhappy customers with a free gift that's easy to claim with messaging to re-emphasize the apology.
22, Reach out to bloggers with content that ranks for your search queries related to your brand, share a little bit about your products with a Checkout Link to try them for free.
The perfect link doesn't exi—
Checkout Links isn't the "one link to rule them all".
It's the "whatever link you need to meet your customers with the right checkout for their context".
Unlike Shopify's Buy Button and native checkout links, the Checkout Links sales channel for Shopify lets you create one-off links in seconds for your campaigns with the flexibility to tailor the messaging, products, discounts, and other aspects of the checkout experience to leverage context to convert more. 
Ready to start using Checkout Links across your marketing? "Check out" Checkout Links in the 
Shopify App Store
 and let us know what you think :)